December 2017 meeting was held on Wednesday, December 6, 2017 at the VFW in Hyde Park, VT.
The meeting started at 7:30 pm. There were 3 officers and 3 members present.
The Pledge of Allegiance was recited. There were no guests.
The Secretary's report (from November's agenda) was read.
The Treasurer's report was read and accepted. Note: to see a Treasurer's report, come to a meeting.
Harley Raffle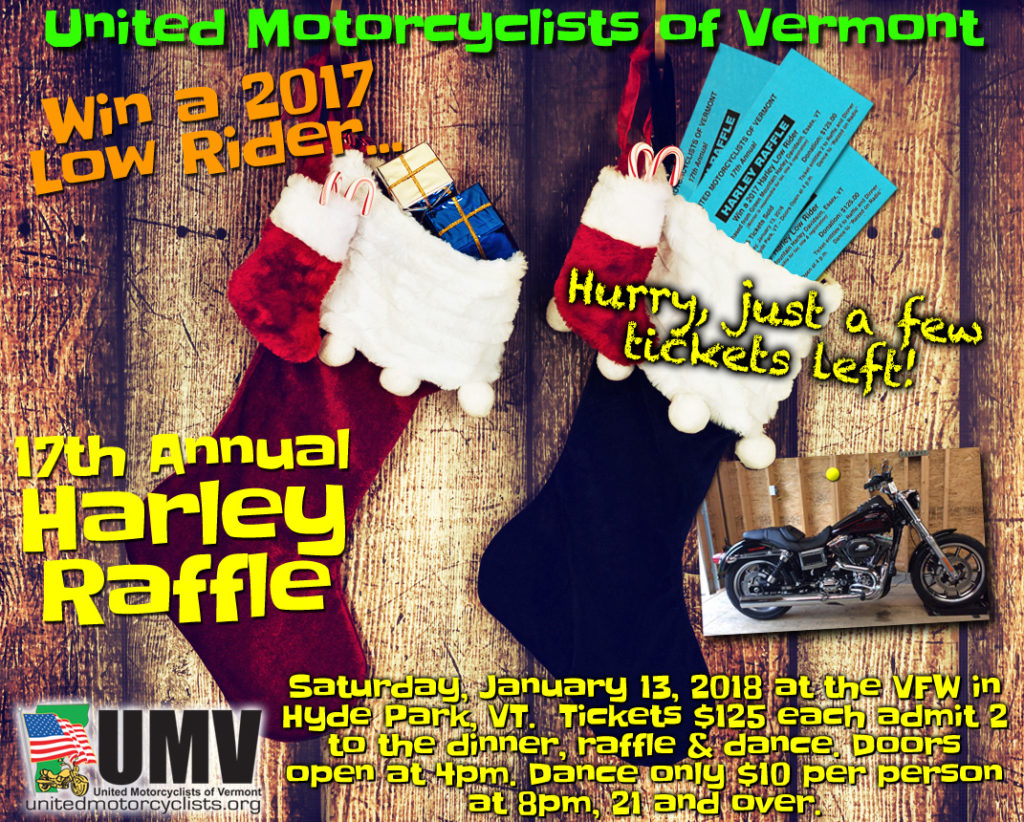 There are about 15 tickets left and some outstanding. Donnie has the tickets so if anyone wants one have them contact him or contact him yourself.
The margarita machine was purchased to use as a raffle prize.
Holly reports that Texas Roadhouse is all set.
Gabriel and Jason reported to Holly that we have paper plates and/or they will make sure we have enough.
Holly will ask that the VFW put the event on their marquee out front.
We need people to sell raffle tickets at the event.
Holly is updating the release form for the winner to include "winner must contact Green Mountain Harley within 30 days…"
Lorelei will bring trash bags, we should remember to bring containers or bags to deal with leftovers. There are usually a lot of rolls, butter and some pulled pork left. It is sometimes hectic trying to clean up and get out of the way for the VFW members. Sometimes they remember they need to be serving food during the event and we have to be out of their way.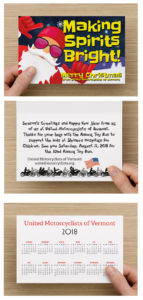 Scholarships
We received a nice thank you email/letter from a recipient. Gabriel will mail out the forms in January for 2018.
We got the Christmas cards and Holly will be mailing them soon.
Adjourned at 7:50 pm.
Next meeting Wednesday, January 3, 2018 at the American Legion in Orleans, VT. The Harley Raffle is the 13th.