The 28th Annual Toy Run – Saturday, August 9, 2014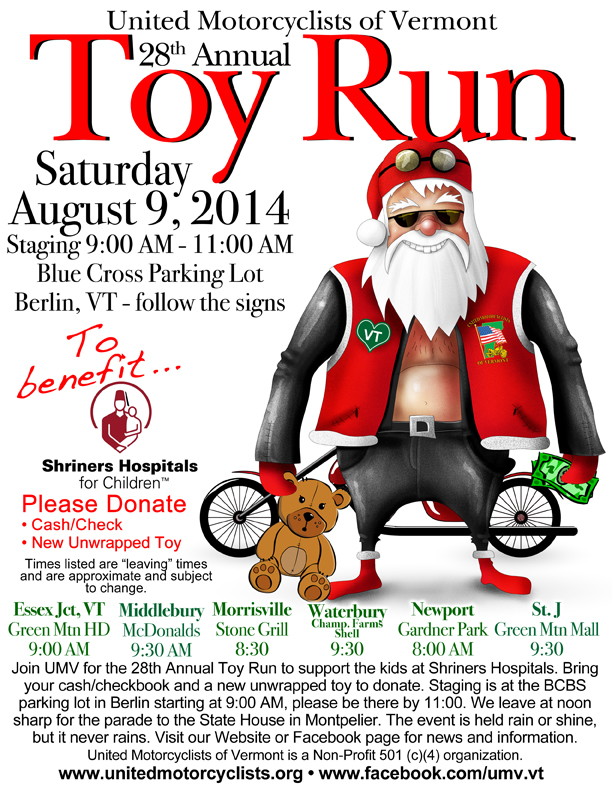 Updates…
We have not gotten a confirmation from the leader for the Middlebury group. If you're part of that group and want to lead, please let us know. The Green Mtn. HD group, led by the Red Knights will go straight to Berlin bypassing the construction in Waterbury. The Red Knights will stop at the Berlin FD on the way to pick up a fire truck escort. The Morrisville group will meet the Waterbury group at the Champlain Farms Shell (by Shaw's) and then ride to Berlin.
The Toy Run will stage at the Blue Cross parking lot in Berlin, VT as usual. We need help, as usual. We're looking into new food vendor(s), maybe a DJ at the staging area, and having a donation bucket or people collecting donations on the way in. The Shriners are a great bunch (we're not too bad either) and they can always use some help. As cool as it looks having bikes loaded with toys, money is king.
The Route…
Leaving the Blue Cross parking lot at noon sharp – Industrial rd. (Berlin) to Airport Rd. to Miller Rd. to Rte 63 to Rte 14 to Rte 302 to Rte 12 to Rte 2 (State Street) at capitol. [map – approx.]
Saturday, August 9, 2014 is United Motorcyclists of Vermont's 28th Annual Toy Run to benefit Shriners Hospitals for Children.
You can help the kids at Shriners Hospitals by riding in United Motorcyclists of Vermont's Annual Toy Run.
The Toy Run is a fun, scenic motorcycle parade from Berlin, VT to the State House in Montpelier. Along with benefitting Shriners Hospitals for Children the ride helps raise motorcycle awareness in Vermont.
The Toy Run is the state's premier motorcycle charity event with up to 1,000 motorcycles taking part in the parade. This is the 28th annual run. We stage at the Blue Cross parking lot in Berlin by 11:00 am and leave at noon sharp for the ride to the State House. State Senator Joe Benning will address the attendees from the State House steps. Senator Benning is a seasoned rider and an outstanding proponent of individual rights.
There is no registration fee for the Toy Run, we ask that riders donate to the Shriners. It wouldn't be a toy run if you didn't strap a toy to your bike, but we all know that cash, or a check, goes a long way to helping. Over the years we have collected thousands of toys. We were able to visit the Shriners Hospital in Springfield, MA a while ago; while most hospitals are kind of depressing everyone at the Shriners Hospital was happy and friendly. The kids love visiting the "toy store" stocked with donations collected at the Toy Run.
There are several starting locations around the state including The Stone Grill in Morrisville, Green Mountain Harley Davidson in Essex, Middlebury McDonald's, Gardner Park in Newport and the Green Mountain Mall in St. Johnsbury. This year because of construction the group from Green Mountain Harley, led by the Red Knights, will go directly to Berlin instead of meeting up with the Morrisville and Waterbury group. In Waterbury we'll be meeting at the Champlain Farms Shell gas station instead of the self-storage location.
Shriners Hospitals for Children, known as "The World's Greatest Philanthropy," is a network of 22 medical facilities across North America. Children with orthopedic conditions, burns, spinal cord injuries, and cleft lip and palate are eligible for care and receive all services in a family-centered environment, regardless of the patients' ability to pay. Along with providing medical care to children regardless of the family's ability to pay, the mission of the hospitals also includes research and the education of medical professionals.
United Motorcyclists of Vermont is a non-profit, 501 (c) (4) organization, we are chartable and educational and work to protect your right to ride by promoting motorcycles safety and awareness in Vermont. We also provide educational, monetary gifts to high school students entering college.
Canceled For 2014 – Bikers Rally Against Cancer
The Bikers Rally Against Cancer event has been postponed until 2015.
Support The Kids At Shirners Hospitals For Children
Please make a monetary donation to the Shriners and bring a new, unwrapped toy to donate.
So, if you want to help, join UMV, if you're already a member show up at a meeting or let us know what else you can do to help. If you know someone who could prepare and serve food at the BCBS parking lot, talk to them and us. And if anybody knows if there's still a hot dog cart in Montpelier, ask him to set up in front of the State House on the 12th. I know by the time I get there I'm ready to drink about a gallon of water and soda and have a couple dogs, so if someone is set up there they should make out pretty well, well enough to make a donation to the Shriners.