Making Spirits Bright for 32 Years Now!
Saturday, August 11, 2018
If you have any info or questions or comments, let us know. Why not join UMV and come to some meetings? Then you can help make this event happen.
UMV's 32nd Annual Toy Run
Who: United Motorcyclists of Vermont
What: 32nd Annual Toy Run to support the kids at Shriners Hospitals for Children
When: Saturday, August 11, 2018 (always the 2nd Saturday of August…)
Where: Staging at the Blue Cross parking lot in Berlin, VT starting at around 9:00 am. We leave for the State House at noon – sharp.

Expected to attend:
Miss Vermont
Governor Phil Scott
Hundreds of motorcyclists – confirmed
So get off your collective asses, join UMV, come to meetings, be a politically-active motorcyclist and an active member… Help us plan and organize this event to benefit Shriners Hospitals for Children.
Help The Kids At Shriners Hospitals for Children and Help Us Spread the Word
Share the Toy Run info with your friends, make them promise to come and then make someone else promise to come 'cuz you know the first one's not gonna show up. There are pop up sharing buttons on this page to share it on facebook, through email, etc.
Starting Locations & Times…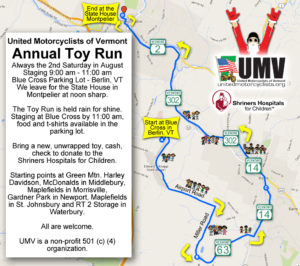 These are the "official" starting points, there may be more. Let us know and we'll post them.
Here's a slide show of our 2016 Toy Run…