United Motorcyclists' 17th Annual Harley Raffle – 2018
UMV's 17th Annual Harley Raffle was held on Saturday, January 13, 2018 at the VFW in Hyde Park, VT. It was a great time for all involved. The day started with an ice storm and flooding. Rt 15 was closed in Johnson, VT just a few miles away for an ice jam and flood. By the afternoon most roads were cleared, there was still closures due to flooding around the state but a good size crowd turned up for the chance to win a new Harley and to spend the night with a great bunch of motorcyclists.
The winner was Claire B. of Irasburg, VT. She was not present at the raffle. Claire has been wanting to start riding for years and now she has the chance. We're looking forward to riding with her.
Saturday was a great night! We had an amazing turnout for the 17th Annual Harley Raffle and Claire Beaulieu was the winner! Thanks to everyone that helps support United Motorcyclists of Vermont, as we couldn't do what we do without you! And a great big thank you to the band, RaiZed on Radio, you rocked the house! We've asked the band back for next year's raffle on Saturday, January 12, 2019. Tickets will be available during the summer of 2018. They always sell out, get yours early.
Drawing: Saturday, January 13, 2018 (always the 2nd Saturday…)

Doors open at 4pm
Texas Roadhouse pulled pork dinner starts around 5pm
Raffle starts around 6pm
The band – RaiZed on Radio starts around 8pm

Location: Hyde Park VFW [map/info]
Each ticket is $125 and admits 2 to the dinner, dance and raffle
Only 175 tickets are available – starting in July
Win a 2017 HD Low Rider from Green Mountain Harley Davidson
Price for dinner and dance, no raffle ticket: $25 at the door
Price for dance / band only, admitted at 8:00 – $10 at the door, must be 21 and over…
Join us and a couple hundred other bikers for a great night. Enjoy dinner from Texas Roadhouse, music by Razed on Radio and a chance to win a new 2017 Harley Davidson Low Rider.
Get your ticket from your friendly, local United Motorcyclists or contact us. Only 175 tickets will be sold. They're only $125 and each tickets admits 2 to the festivities, and gives you a chance to win the Street Bob. A great night out and a chance for a new bike for just $125 – can't beat that with a stick.
We'll be at the VFW in Hyde Park, VT [map] again this year. Doors open at 4:00 PM. Texas Roadhouse is catering the dinner: pulled pork, salad and their fresh baked rolls and honey butter.
Your ticket admits 2 to the dinner/drawing/dance. You must be 21 or older to stay after 8:00 PM. The doors open for ticket holders at 4:00. Non-tickets holders can come for the dinner and dance $25. You can show up after the drawing and get in for Razed on Radio for $10. Everything is subject to change.
New This Year – RaiZed on Radio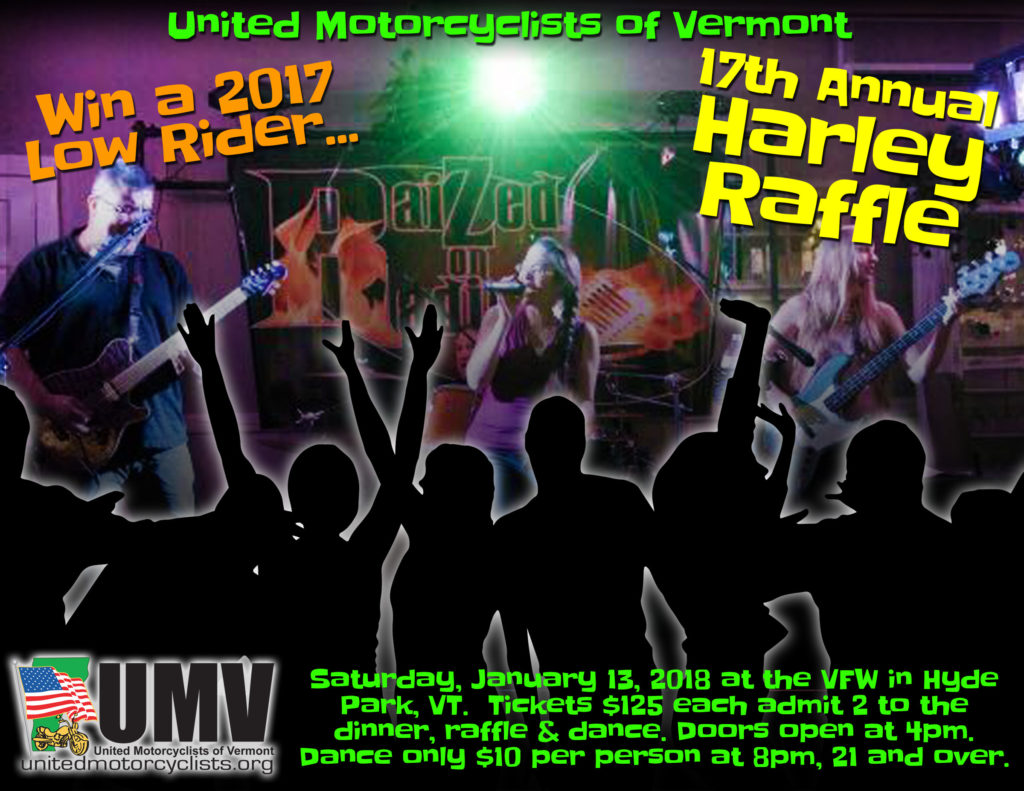 RaiZed on Radio provides the highest level of entertainment. Dance to the best Classic rock and roll and chart topping country hits with a mix of blues. RoR covers some of the hottest hits from the biggest female and male artists and will rock your wedding reception, company party or any family occasion. RaiZed on Radio features one of the areas top female singers. Let RoR bring your party to another level.