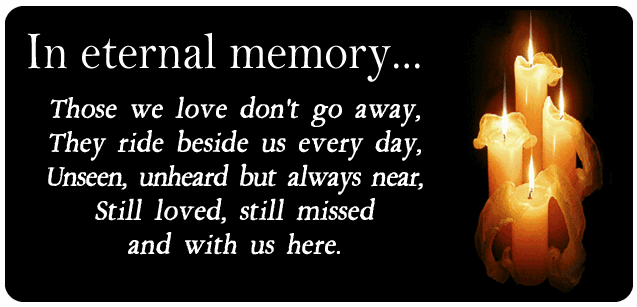 Don Henn Sr.
Donald C. "Coot" Henn, 76 of Lowell, VT and Port Saint Lucie, FL passed away peacefully with his family by his side on July 20th 2016.
Don was born in Pompton Plains, NJ on August 26th 1939. He served in the U.S Navy on the destroyer Rhodes 1955 to 1962. He married the love of his life Margie in 1962 and moved to Vermont in 1974 with his wife and two boys.
His passion was his job running heavy equipment at Meunier Construction for over 30 years. When he wasn't working, he could be found riding his Harley Davidson, hunting, fishing, camping, smoking cigars, and enjoying the "occasional" vodka drink. He was a long-standing member of United Motorcyclists of Vermont and the Legion Riders of North Troy. He was also a long life member of the NRA and the AMA. He owned the restaurant "The Henn House" in Glover for three years.
Donald is survived by his wife Margaret Henn, two sons Donald Henn his companion Jodi Tomasi of Johnson, William Henn his wife Torrie Henn of Lowell, Grandchildren, William Henn Jr. his companion Diane Carter and daughter Olivia Henn, Mariah Henn, Cierra Henn, and Chantal Henn a brother-in-law Johnny Koch his wife Barbara Koch. He is also survived by many friends, nieces, and nephews. He is predeceased by his father William Henn and mother Dorothy Coursen, his sister Betty Mistler and her husband John Mistler.
There will be a memorial ride in his honor on August 6th. Meet at the Lowell School at 11:00 am; kickstands up at 11:30am. After, a celebration of his life will be held at the VFW in Hyde Park at noon. Those who are not riding can just meet at the VFW. Donations in his memory can be made to the American Legion. The family also invites you to share your memories and condolence by visiting www.awrfh.com.


Sign the Guestbook
[gwolle_gb]