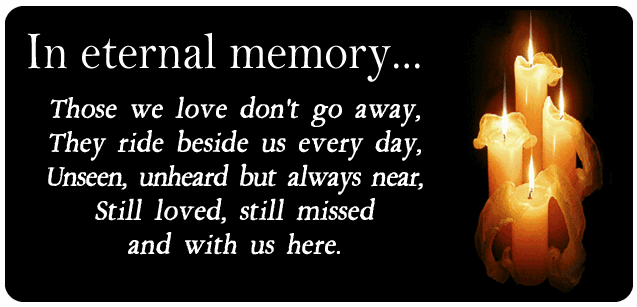 Don Henn Sr.
Donald C. "Coot" Henn, 76 of Lowell, VT and Port Saint Lucie, FL passed away peacefully with his family by his side on July 20th 2016.
Don was born in Pompton Plains, NJ on August 26th 1939. He served in the U.S Navy on the destroyer Rhodes 1955 to 1962. He married the love of his life Margie in 1962 and moved to Vermont in 1974 with his wife and two boys.
His passion was his job running heavy equipment at Meunier Construction for over 30 years. When he wasn't working, he could be found riding his Harley Davidson, hunting, fishing, camping, smoking cigars, and enjoying the "occasional" vodka drink. He was a long-standing member of United Motorcyclists of Vermont and the Legion Riders of North Troy. He was also a long life member of the NRA and the AMA. He owned the restaurant "The Henn House" in Glover for three years.
Donald is survived by his wife Margaret Henn, two sons Donald Henn his companion Jodi Tomasi of Johnson, William Henn his wife Torrie Henn of Lowell, Grandchildren, William Henn Jr. his companion Diane Carter and daughter Olivia Henn, Mariah Henn, Cierra Henn, and Chantal Henn a brother-in-law Johnny Koch his wife Barbara Koch. He is also survived by many friends, nieces, and nephews. He is predeceased by his father William Henn and mother Dorothy Coursen, his sister Betty Mistler and her husband John Mistler.
There will be a memorial ride in his honor on August 6th. Meet at the Lowell School at 11:00 am; kickstands up at 11:30am. After, a celebration of his life will be held at the VFW in Hyde Park at noon. Those who are not riding can just meet at the VFW. Donations in his memory can be made to the American Legion. The family also invites you to share your memories and condolence by visiting www.awrfh.com.


Sign the Guestbook
7 entries.
we sat at a few rallys a the toy runs and it was always a great time ,u will be missed by many os that had the pleasure to know ya
Have not seen Don for some time but will never forget that great smile that was always on his face.
RIP Old Friend
my condolences to all of Coots family,he was an amazing man.I thought a lot of him.He was an easy man to like and a man that deserved a lot of respect.I will miss him greatly and will think of him often.
Ride in peace my good friend
So many great pics of Coot!! because he was always smiling and laughing and looking like he was having the time of his life. When Joe and I first joined UMV he and Margie were so friendly and welcoming to us. He did so much for UMV, was always willing to represent at events, manning the table, and boy did he spend hours washing pots in the kitchen after the Harley Raffle. I will never forget his friendly hugs and hear his voice saying "hey there Sweetie, how ya doin?" Margie, we know no one will miss him more than you but please know we loved and respected him and he is an unforgettable person.
when I think of Coot I think of his smile as well as his heart of GOLD! He truly was ONE OF KIND!!!

May the happy memories of him help you all through the pain you must be feeling. My love to the Family!!!!!
We're going to miss you Coot, you were one of a kind.