Support the Kids At Shriners Hospitals for Children
Why not join UMV and come to some meetings? Then you can help make this event happen.
Saturday, August 13, 2016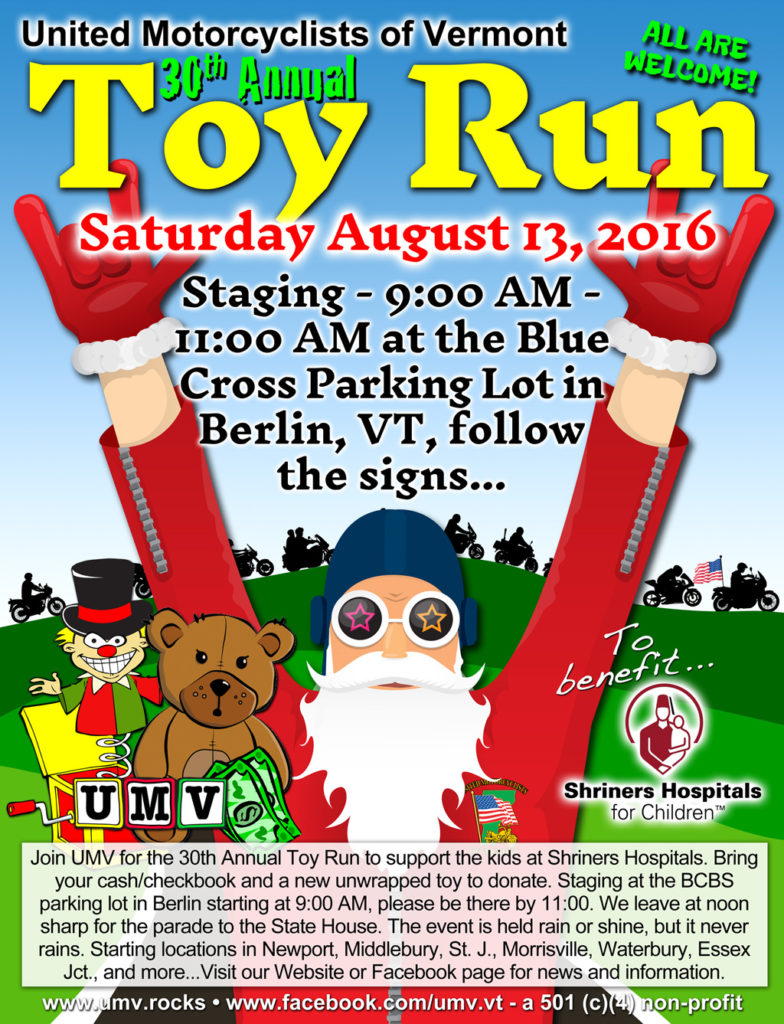 UMV's 30th Annual Toy Run
Who: United Motorcyclists of Vermont
What: 30th Annual Toy Run
When: Saturday, August 13, 2016 (always the 2nd Saturday of August…)
Where: Staging at the Blue Cross parking lot in Berlin, VT starting at around 9:00 am. We leave for the State House at noon – sharp.

Expected to attend:

Miss Vermont
Lt. Governor Phil Scott
Sen. Joe Benning
Hundreds of motorcyclists

After Toy Run Party at Charlie O's
After the Toy Run Party and Stunt Show at Wilkins HD
So get off your collective asses, join UMV, come to meetings, be a politically-active motorcyclist and an active member… Help us plan and organize this event to benefit Shriners Hospitals for Children.
Miss Vermont will be attending; Miss Vermont's Outstanding Teen has another commitment and will not be able to attend.
We've asked Lt. Governor Phil Scott, he rides and he's running for governor and his office is scheduling it.
Several members have said they'd like to see Gina Bullard from WCAX attend and have even offered her a ride. Let's make this happen.

Help The Kids At Shriners Hospitals for Children and Help Us Spread the Word
Share the Toy Run info with your friends, make them promise to come and then make someone else promise to come 'cuz you know the first one's not gonna show up. There are pop up sharing buttons on this page to share it on facebook, through email, etc.
Flyers are here. Let us know if you can post some for us. We made a black and white – easy to print one too, so you can download it, print it and post it all over your town.

Starting Locations & Times…
These are the "official" starting points, there may be more. Let us know and we'll post them.
After the Toy Run…
Charlie O's in Montpelier is planning an after the Toy Run party to celebrate our 30 anniversary and their 40th. Party inside and outside in their beer garden.
Charlie O's – Good drinks and bad company since the war between the states.