The 29th Annual UMV Toy Run – Saturday, August 8, 2015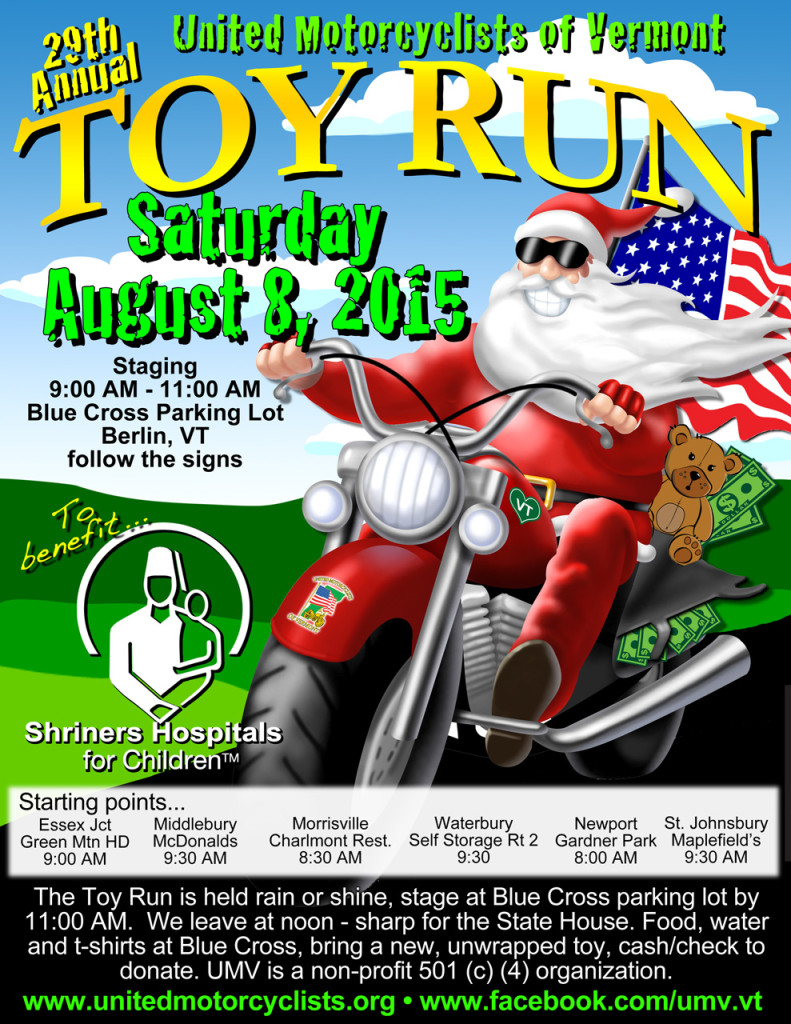 Mark your calendars, the 29th Annual Toy Run is coming up. We'll start staging around 9:00 at the Blue Cross parking lot in Berlin, VT [map] – like always, on the second Saturday of August – like always and riding to the State House in Montpelier – like always.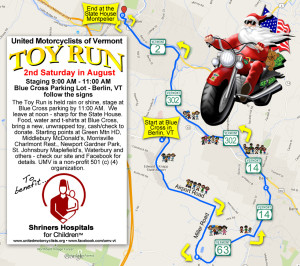 The Toy Run is one of the biggest motorcycle events in Vermont every year. It's a great way to collect donations for the kids at Shriners Hospitals for Children and a great way to raise motorcycle awareness while enjoying a ride with hundreds of other riders.
The Route…
We leave the Blue Cross parking lot at noon sharp – Industrial rd. (Berlin) to Airport Rd. to Miller Rd. to Rte 63 to Rte 14 to Rte 302 to Rte 12 to Rte 2 (State Street) at capitol. [map – approx.]
Starting Locations…
These are the "official" starting points, there may be more. Let us know and we'll post them.
Download the new flyer, print it, distribute it, help us out…
2015 Toy Run Flyer 2 PDF 2 MB
This is the second version of the flyer, we've added our official starting points. There may be more, let us know and we'll try to post them.
Green For 2015
We're going with green t-shirts and ladies' tanks for 2015.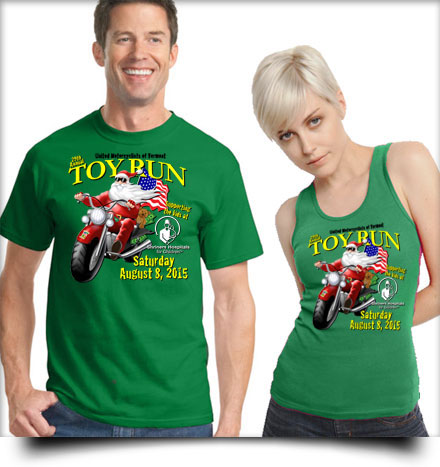 Weather Forecast…
Clear

Sunny to partly cloudy. High 77F. Winds WSW at 5 to 10 mph.

Chance of a Thunderstorm

Isolated thunderstorms in the morning, then skies turning partly cloudy late. A few storms may be severe. High 86F. Winds SSW at 10 to 15 mph. Chance of rain 30%.

Partly Cloudy

Intervals of clouds and sunshine. High 78F. Winds W at 10 to 15 mph.

It's Going To Be A Busy Day…
It's going to be a great day in Montpelier, along with the 29th Annual Toy Run, farmers' market and sidewalk sale, this year there will be a Vintage Trailer show downtown.
Montpelier Police Chief Tony Facos has told us that the trailers may be parked on State Street between Main and Elm but they will not interfere with the parade route or motorcycle parking. We hope to see you on the 8th to support this charitable event for Shriners Hospitals for Children.