The 29th Annual UMV Toy Run – Saturday, August 8, 2015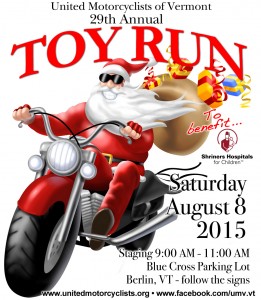 Mark your calendars, the 29th Annual Toy Run is coming up. We'll be staging at the Blue Cross parking lot – like always, on the second Saturday of August – like always and riding to the State House in Montpelier – like always.
The Toy Run is one of the biggest motorcycle events in Vermont every year. It's a great way to collect donations for the kids at Shriners Hospitals for Children and a great way to raise motorcycle awareness while enjoying a ride with hundreds of other riders.
---
Annual Harley Raffle – Saturday, January 10, 2015 – thanks to everyone for another great year. The Annual Harley Raffle is our main fund-raising activity for the year and allows us to support our scholarship fund, Shriners Hospitals for Children, Camp Takumta, VNA & Hospice, our Vets and more. We couldn't do it without you.
The winner was D.L. from Waterville, VT.
See you all at the Toy Run on Saturday, August 8, 2015, Kingdom Thunder on the weekend of August 22-23, 2015 and next year's 15th Annual Harley Raffle on Saturday, January 9, 2016. Or, you can come to our monthly meetings, go for a ride with us…
Thanks For Another Great Toy Run

Here are most of the pics we took at the Toy Run, see if you can find yourself. If you need a high resolution copy for printing, let us know, they're free for members.
Annual Toy Run – Saturday, August 9, 2014 – the Toy Run is always the 2nd Saturday on August. [more]
WCAX reported on the Toy Run this year. The video is not up on their site (yet?) but there is an article and a couple of pictures.
Note: if you are not a member, you should be. No welfare riders here. If you are a member and think there is something wrong or missing from the site or our Facebook page, congratulations. You have enough time and knowledge to correct it. This is your page. Contact us and let us know what level you are going to participate at and we'll set you right up.