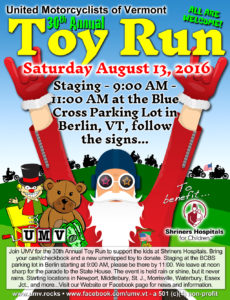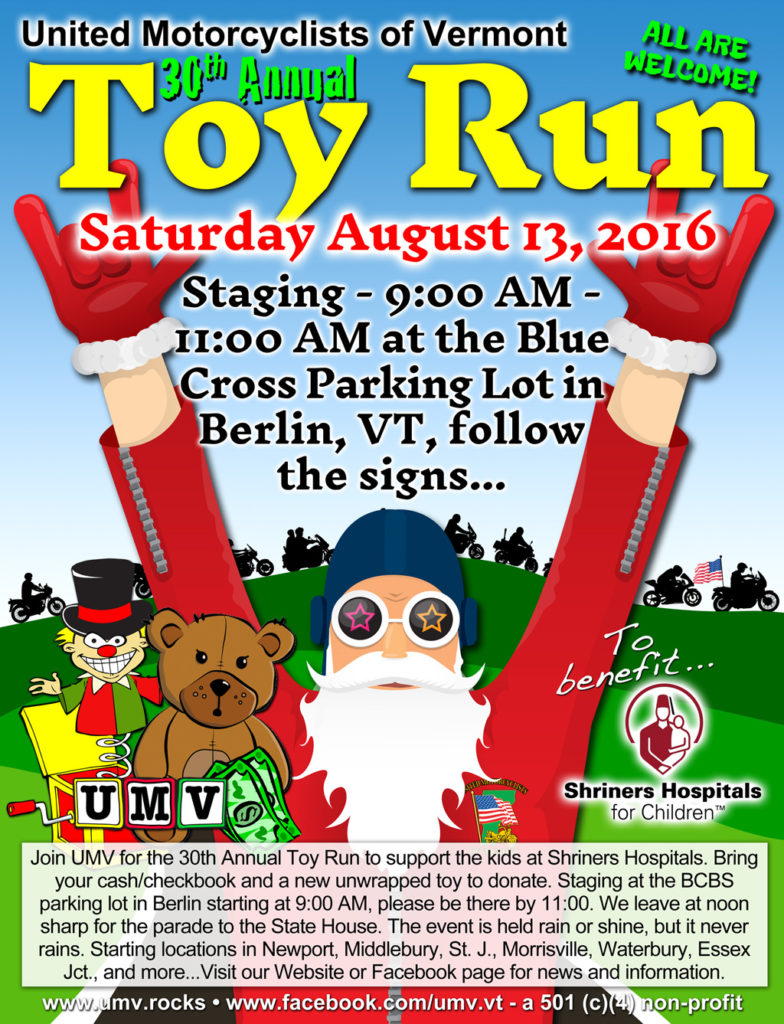 United Motorcyclists of Vermont - Fighting For Your Right To Ride
UMV's 30th Annual Toy Run - Saturday, August 13, 2016
Show your support for Motorcyclists' Rights and help support the kids at Shriners Hospitals for Children, join us for the 30th Annual Toy Run this August.
The 30th Annual Toy Run is Saturday, August 13, 2016. We stage at the Blue Cross parking lot in Berlin, VT starting around 9:00 am, please be there by 11:00 for staging. We leave for the State House in Montpelier at noon sharp. We've invited Lt. Governor Phil Scott to address us at the State House, he has said he wants to but hasn't been able to confirm yet.
Save The Date -
Saturday, August 13, 2016
Until UMV's 30th Annual Toy Run To Support The Kids At Shriners Hospitals For Children
---
About United Motorcyclists of Vermont...
United Motorcyclists of Vermont is a non-profit 501 (c)(4) organization. We are educational, charitable and political. Join up, come to our monthly meetings and get involved. Our meetings are the first Wednesday of each month and alternate between the VFW in Hyde Park on even months and the American Legion in Orleans on odd months. Meetings start at 7:00 pm and all are welcome. [more...]
---
UMV on Facebook...
United Motorcyclists of Vermont on Facebook